This has been a busy week gearing up for Black Friday. Are you going to do a Black Friday promotion?
From November 15th through the third week of January is when people are spending the most money.  The holiday season is a great time to promote your products and services.  If you are an information marketer, this holds true for you too.
People still spend money on themselves during the holidays.
Black Friday is the day consumers expect to find killer bargains.  Steals actually, so be sure to offer huge value for a forgettable price. If it's high priced or not on sale, you will lose them this weekend.
Cyber Monday is the busiest day of the year for online sales. Just because everyone is back to work, the sales won't slow down.  Statistics show that more than 50% of all online sales on Cyber Monday are made from computers at places of employment. Bam!
That means people who are working and have a regular income are spending money that day.
But this is the day consumers expect kick-ass cut rate prices.  If you aren't offering huge value – well, go big or stay at home as they say.
Let me walk you through the sale process I use for my Black Friday weekend…
Here's the sales process chart I created for my assistant Crystal, to be sure we were on the same page for next weekend's big sale. (And to keep me on track, so I don't miss a step somewhere)
Black Friday
Here's what I'm doing…I've selected 8 of my most popular courses and  trainings (approx. 8 hours of audio and video, many with study guides) plus one of my best selling plugins for WordPress and bundled them together for one ridiculous low price. That's well over $100 in value and I'm setting the sale price for the bundle at $17.00.   That's what I mean by a forgettable price.
With the high value I'm putting in this bundle, at this price point it would be a no-brainer for anyone needing this training.  But remember, it really has to be a good value.
This serves two purposes.  First, you make lots of sales and second, you are getting all kinds of new people into your sales funnel.  People who might have been in your community but never purchased before, as well as attracting new people.  
Once they see the quality of your products and get results, they will in all likelihood buy again at a higher price point.
The sale goes through the weekend and into Monday.

Cyber Monday
There will be another promotion of 11 different training audios, videos and plugin on this one with an actual value of $132.00 that will sell for $27.00. Another no-brainer if you are needing help to build your online business.  Again, a high value with an unforgettable price point that will be hard to walk away from.
The Upsell
You should always offer an upsell with this kind of promotion. It adds more value for your customers and creates more income for you.  It should also be an exceptional value and very reasonably priced.
What's my upsell?  Sorry chica, you'll just have to wait and see.
Last but not least, pull a rabbit out of your hat.
On Cyper Monday, introduce another even harder to resist product or group of products at another forgettable price, with another upsell.  Better yet give them a choice of your weekend special, Cyber Monday's special or both!
So that's it. A solid sales promotion process you can use for your business. This can be modified for any time of year. You won't have to go with such a low price point other times unless you want to create a real buzz. 
Maybe you're inspired to have your own Black Friday promotion now that you know how it's done.  (This is just one of many ways to do it, of course)
If you get stuck and need a little help, give me a shout out on Facebook.
Click For ==>> Recommended Time Saving Tools I Use To Build My Business<<==
Let's have fun and make money together! Get The Happypreneur iMag Newsletter and updates. This informative training tool will give you all kinds of tips and insight to build your online business. You won't want to miss a thing! It's free.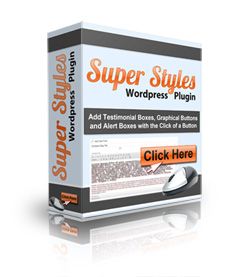 WP Super Styles does the techie stuff for you that makes your
blog posts, opt in and sales pages look snazzy.
Never Miss A Thing!
Subscribe to get interesting stuff and weekly updates from Celene for a healthier and happier home and family.